EGS // SERVICIOS / LOGISTICS
EGS LOGISTICS
We create tailored solutions to carry out logistics operations for companies of all sizes, offering its distribution channel reliable and efficient processes.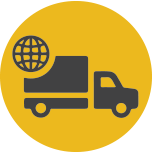 Through this unit we are committed to:
+ Guarantee of service *.
+ Logística inversa para recolección de materiales peligrosos para su reciclado o reutilización.
+ National coverage.
+ Management and effectiveness reports.
+ First quality storage and ships/aircrafts.
* In case of non-compliance with delivery times due to own causes and/or disability, no fees will be charged for the service.